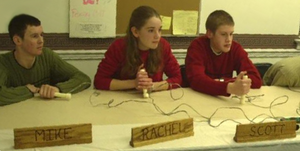 Quizzers are youth from 7th grade to 20 years of age who participate in the quizzing activity, and each quizzer is a member of a quiz team.
Responsibilities
Edit
Quizzers are required to study assigned passages from the NIV Bible, which they quiz on during matches at weekly quiz meets. Quizzers are assigned about three to four chapters of study material weekly and usually over twenty chapters during the entire season.
Individual Standings
Edit
Each quizzer with at least one correct answer receives an accumulative ranking each week throughout the season. The standings tell the name of each quizzer, their quiz team, their total points, and their average points per match. Some quizzers make it a goal to be a "perfect quizzer", which means that they quiz out every match for the entire season. Usually one or more "perfect quizzers" can be found at the first few ranks in the individual standings. Each week during the quizzing season, the team and individual standings are posted in PDF format of the main page of this site under the "Important PDFs" section. Also, each week of the quizzing season, there will be a list posted of the top fifty quizzers which can be found here.