Quiz Meets are weekly gatherings on Sundays during the regular quizzing season where quizzers and their quiz teams come together and compete in matches against other teams.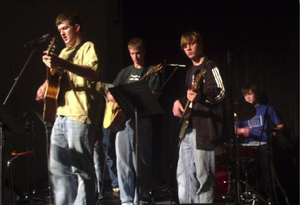 Quiz meets are usually held at churches or Lancaster Mennonite School. There are usually multiple quiz meets on a Sunday at different locations, as most locations don't have enough room to host every quiz team. One of the few exceptions is Lancaster Mennonite School; it has multiple buildings, which together are large enough to host the entire quizzing community.
Quiz meets will always commence with a youth-lead time of worship and praise, usually in the building's sanctuary or auditorium. After the praise time, announcements are made, the top teams and perfect quizzers are revealed, a joke involving the week's material is recited, and then everyone is dismissed to commence the night of quizzing.