This article is about the overall quizzing program. For an in-depth explanation and technicalities of the Bible quizzing activity, see Match. See also, Statement of Purpose.
ACC Bible Quizzing
is an activity for youth in seventh grade to twenty years of age. The whole idea is to get youth excited about reading, memorizing, studying, and discussing passages from the Bible. The participating youth are called
quizzers
. Quizzers, along with their
quiz teams
, compete against other teams on the learned Bible material during
matches
at
quiz meets
. They also have a chance to attend two tournaments after the regular quizzing season: the
ACC Tournament
and the
Invitational Tournament
, sometimes held in Ohio.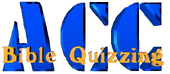 Atlantic Coast Conference
Edit
ACC Bible Quizzing is an activity run by Atlantic Coast Conference (ACC). Atlantic Coast Conference is one of the 21 area conferences that are part of the larger Mennonite Church USA. While Bible quizzing is an activity enjoyed far beyond ACC or even the Mennonite denomination, ACC Bible Quizzing has its own unique aspects and community, which are noted on this wiki. All of the quiz teams that participate in ACC Bible Quizzing have a home church. Most of the home churches are part of the Atlantic Coast Conference. If a church that wishes to participate in ACC Bible Quizzing is not part of the Atlantic Coast Conference, the area quiz coordinators decide if they are to join.
External Links
Edit